Chicago Piano Tuning - 2008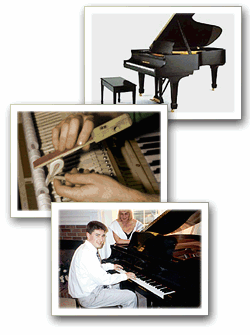 Trust a Certified Piano Tuner
Your piano is one of your home's most prized possessions. It deserves the best care possible. Chicago Piano Tuning offers experienced piano tuning and repair service, by an expert technician, accredited through the American Conservatory of Music.

Caring for your piano...
There are many simple things that you can do to extend the beauty and tone of your piano. Keeping the temperature and the humidity steady in your house will help your piano maintain its tuning as well as the strength of the wood. Always keep the piano away from outside walls or open windows. Keeping the piano away from direct sunlight will help maintain the finish.
Chicago Piano Tuning - 2008